Class Action Litigation Basics
What is a class action?
A class action is a type of lawsuit in which one or several persons or companies bring an action on behalf of a larger group of persons or companies.
While the subject matter of class action litigation can vary widely, two factors are almost always present in every class action:
​1.  The issues in dispute are common to all members of the class, and
2.  The persons or companies affected are so numerous as to make it impracticable to bring all of their claims separately before the court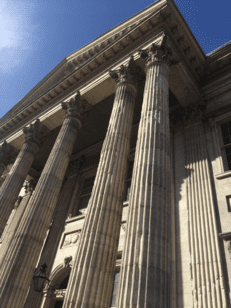 Depending upon the type of class action, resolution of the lawsuit binds all members of the class certified by the Court.
Many cases start as the result of complaints by one or a handful of persons or companies to counsel or to governmental bodies.
Others follow upon government investigations and criminal indictments.
What are some examples of class action lawsuits?
Examples of class action lawsuits include claims such as:
Antitrust- Merchants and consumers who allege payment of inflated prices for products caused by the anti-competitive activities of large corporations; and
Securities- investors who allege they are victimized by fraud committed in connection with the purchase or sale of stocks and other securities.
Telephone Consumer Protection Act, 47 U.S.C. § 227- Did you know that it is unlawful to market via use of computer robo-dialing cellular phone numbers, via text message, or by sending unsolicited faxes unless the unsolicited advertisement is from a sender with an established business relationship with the recipient? Federal law provides for a private right of action to recover for actual monetary loss from such a violation, or to receive $500 in damages for each such violation.  The court can triple this $500 per occurrence damage award to $1,500 per occurrence in its discretion.
What are public policy reasons that support class action lawsuits?
Class action lawsuits are designed to advance several important public policy goals. A class action is often the sole means of enabling persons, even those with serious injuries, to remedy injustices committed by powerful corporations and institutions. As stated by former United States Supreme Court Justice William O. Douglas, "The class action is one of the few legal remedies the small claimant has against those who command the status quo."
Often, individuals and corporations may have suffered only limited damages and the cost of individual lawsuits would be far greater than the value of each claim. The total damages, however, to the class, could be quite large. The wrongdoer would have the incentive to continue its fraudulent conduct but for having to disgorge unlawfully gained profits returned via a class action.
To learn more about the class action process, contact us today!